Itinerary
Day 1 Arrive to Olgii province
Olgii is highest Mongolian aimag (province). For the most part is located in the Mongolian Altai mountain region. The aimag is famous for the traditional hunting method using  trained golden eagles. An estimated 80% of the world`s eagle hunters live here.
At local airport you will be met one of the our representative: driver, English speaking tour guide, and cooker. We will drive from airport to the entrance of the "Altai Tavan Bogd National Park". (180km from Olgii). Overnight accommodation will be in a tent.
Day 2 Glacier exploration
After breakfast you will start trekking from the entrance of the National park to the base camp. For approximately 5-6 hour on foot. In this day join our team camels and horses with guides. Baggage and all stuffs will transfer by camel. After 16km trekking you will reach one of the longest Potanine glacier which is surrounded with snow-capped peaks of Altai  Tavan Bogd mountains. Overnight accommodation will be in a tent.
Day 3 To climb "Malchin" peak.
This day we will climb the Malchin peak 4050 meter high which is located on the Mongolia and Russian border. It's not a technical climbing. You can easily be on the top. You'll have the best view of the whole Altai Tavan Bogd national park and the longest Potanin glacier from the top of the Malchin peak.
Return to the base camp and overnight accommodation in a tent.
Day 4 Trekking to "white river valley"
After having breakfast you will trekking back to the Tsagaan gol ( white river) valley. Approximately five-six hour trek this day. Have a rest, relax. There will be time for in evening  hike to the beautiful two lakes.  Overnight accommodation will be in a tent.
Day 5 Hike to the "Khara-Airkh" valley
Hike to the Khara-Airkh valley through "Shivet Hairkhan" mountain. On the way we will stop for watching numerous of petroglyphs  (rockarts) from the Bronze and Turkic ages. After five hour walking you will reach Khara-airkh valley which is summer home of local Tuvan nomads.  You will be able to get acquaint with the rich Tuvan culture and their daily life. You will have a chance to taste milk products such as: local yak cheese, milk vodka which is distilled from yak milk, and others. Overnight accommodation will be in a tent.
 Day 6 Trekking to the "Bear valley".
On this day we will trek across on the highest mountain pass with continued camel support. The Bear valley offers you unspoiled natural beauty and unique opportunity to see wild animals such as: ibex          ( wild goat), Argali sheep, red deer, snow leopard, Bear, Altai snow-cock, Golden eagle and many others. The wooded meadows between forested hills are covered with wild and sweet smelling flowers. You'll enjoy the spectacular scenery of wild nature. Overnight accommodation will be in a tent.
Day 7  Trekking to "Akh su" valley.
After having a breakfast you will start trekking from Bear valley to Akh su valley. After 2-3 hour trek you will stop for lunch one of the most beautiful "Green lake". Water in lakes is fresh and surrounding forests are rich variety of rare plants and animals. Then continue on to Akh su valley that Kazakh Nomads spend their summer time. There we will be met our driver. Farewell to our lovely friends horse and camels. From here we drive 50km to Khoton lake. We'll set up our camp on the lakeshore of khoton. Overnight accommodation will be in a tent.
Day 8 Drive to "Sagsai" village, Visit eagle hunters family.
After 100 kilometer drive you'll arrive in small Sagsai village which is situated in a picturesque place on the bank of the Khovd  river.  Visit nomadic eagle hunter's family. It is a most important activity of the every tour that we organize.Each day you will have a lots of chance to talk with eagle hunter and photographing with golden eagle, get acquaint nomads life style , their rich culture etc.  Also you can ask any questions from eagle hunter. He gladly answer  your questions and demonstrate his eagle and give interesting information about trained wild eagle. Furthermore you will enjoy tasting milk products and hospitality of local Kazakh nomads. Overnight accommodation will be in a tent.
Day 9 Drive back to Olgii province.
This day we'll drive back to Olgii city on the way we'll stop for watching Dear stones or Bal bals.  Upon your arrival Olgii you will visit local Bazaar(outdoor market) and central museum of Olgii province. Make shopping for local art and souvenir.   In the end of the trip, "Altai nomads travel" team organize for you short concert including Kazakh folk song, Kazakh traditional dance,  also you can listen amazing "dombra" sound that Kazakh main traditional musical instrument . You will enjoy having a Kazakh traditional meal Beshbarmak. Overnight accommodation will be in a Kazakh yurt.
Day 10  Farewell to Bayan-Olgii province.
After breakfast you will driven to the local airport with your guide for your return flight to Ulaanbaatar.
Altai trekking video
ALTAI TAVAN BOGD NATIONAL PARK TREKKING
Name of the tour: Altai mountain trekking
Duration of the tour: 10 days 9 nights
Day by day itinerary
Tour price includes:
Flight tickets to and from Olgii
Airport pick up and drop off in Olgii
Local English-speaking guide full time service
Experienced driver and cook
land transportation,
Accommodations,
Camel and horse rent
Camping equipment.(tent mattress)
Breakfast, lunch, dinner with snacks in between,
National park entrance fee.
Tour price doesn't include:
International airfare
Any service in UB
Travel insurance
Sleeping bag
Excess baggage charge
Passport and visa fees
Optional additional activity cost
Personal expenses
Special order in cafes and restaurant
All your baggage will transport by camel during the trip.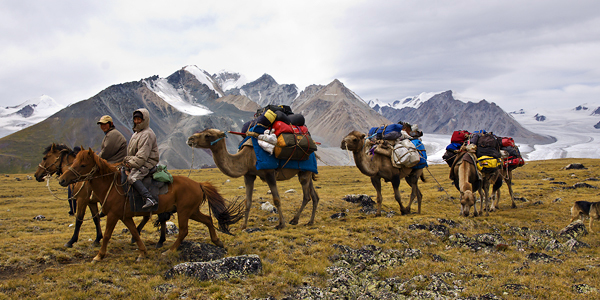 What need to bring?
This is suggested packing list, that must have in your kitty, to make your trip a fulfilling and a comfortable experience.
Backpack

Waterproof bag cover

Comfortable light boots for walking

Head lamp/flashlight

Personal medications

Waterproof hiking boots

Waterproof jacket with hood

Waterproof over pants

lightweight trousers

Anti mosquito lotion

long underwear

Wool socks

Underwear

Warm hat and gloves

Sun glasses

Sun care cream

Spare glasses

Water plastic case with 1 liter of capacity

Binoculars/camera

Wet tissues

Money belt/ pouch

Insurance confirmation copy

Emergency contact number