Detailed itinerary of Golden eagle festival 2023
GOLDEN EAGLE FESTIVAL DATE; 30the of September and 1st of October.
Day-1 Fly to Olgii
Olgii is highest Mongolian aimag (province). For the most part is located in the Mongolian Altai mountain region. The aimag is famous for the traditional hunting method using trained golden eagles. An estimated 80% of the world`s eagle hunters live here.
At local airport you will be met one of our representatives: driver, English speaking tour guide, and cooker. We will drive from airport to the small community of Ulaankhus. In this river valley, Kazakh eagle hunter Bashakhan and his family have their cozy winter house, where you will be warmly welcome. Overnight accommodation will be a kazakh yurt. B+L+D
Day -2 Stay with nomadic eagle hunter's family
After having a breakfast eagle hunter shows you his magnificent golden eagle and give some information about very old eagle hunting traditions in western part of Mongolian Altai. After that you will meet your Mongolian horse and saddle up go to the mountains following up the Eagle hunter and his eagle. Once you reach the top of the mountain, the eagle hunter take off the hood from the eagle. The "Khaguchi" another team member will try to flush out the eagle's prey, by chasing the prey towards to the hill that eagle hunter and guest will be. The eagle will screech to be released, once it sees its prey, the hunter let the eagle swoop down the mountain for catch. Overnight accommodation will be a kazakh yurt. B+L+D
Day -3 Hunting with golden eagle
More riding and hunting with golden eagle. During your stay with eagle hunter's family, you'll follow him by horse to the neighboring mountains. Eagle hunters only hunts in winter month, when it is easy to spot the gold colored foxes against the snow. The hunter use his eagle hunting small animals such as fox, corsac fox and hares. If you are lucky, you will see how the golden eagle catches it's prey, and take many photos of all the action. Overnight accommodation will be a kazakh yurt. B+L+D
 Day -4 To attend Golden eagle festival
The Golden eagle festival starts 10:00 o'clock.
Registration of credential eagle hunter
Opening ceremony of annual golden eagle festival with parade of all participants
Competition of best kazakh costume, eagle and horse harness
Lunch break at 12:00 o'clock
Competition of how eagle adapted to hunters. While the eagles were perched high on the mountain side, the hunter would call for the eagle to come and join him on horseback.
Tenge ilu competition (traditional coin grabbing game while riding a horse);
Urianhai archery competition
Competition of the best kazakh costume of couples
The folk concert at the local theatre of Olgii town.
Overnight accommodation in Ger camp B+L+D
 Day 5 To attend Golden eagle festival 2nd day
Competition of how eagles adapted to hunters "Shyrga Tartu" (the eagles will be qualified how fast and smoothy catch a lure that made of fox or hare skin).
Camel racing
"Kyz kuar" game show (Traditional horseback riding fun game for youth, boys whipped by girls if they reached by them).
Lunch break at 12:00 o'clock
Continuation of the game
Kukhbar competition (Traditional horseback riding game fight over for the goat skin).
Award ceremony for winners of festival
Closing ceremony.           Overnight accommodation in Ger camp B+L+D
Day -6 farewell to Olgii
After breakfast you will driven to the local airport with your guide for your return flight to Ulaanbaatar
Tour price includes:
Flight tickets to and from Olgii
Airport pick up and drop off in Olgii
Local English-speaking guide full time service
Experienced driver and cook
land transportation, + fuel
Accommodations, hotel, home stays
Eagle festival fees
Horse rent with saddle and gears
Mattress
Breakfast, lunch, dinner with snacks in between,
National park entrance fee.
Tour price doesn't include:
International airfare
Any service in UB
Travel insurance
Sleeping bag
Excess baggage charge
Passport and visa fees
Optional additional activity cost
Personal expenses
Special order in cafes and restaurant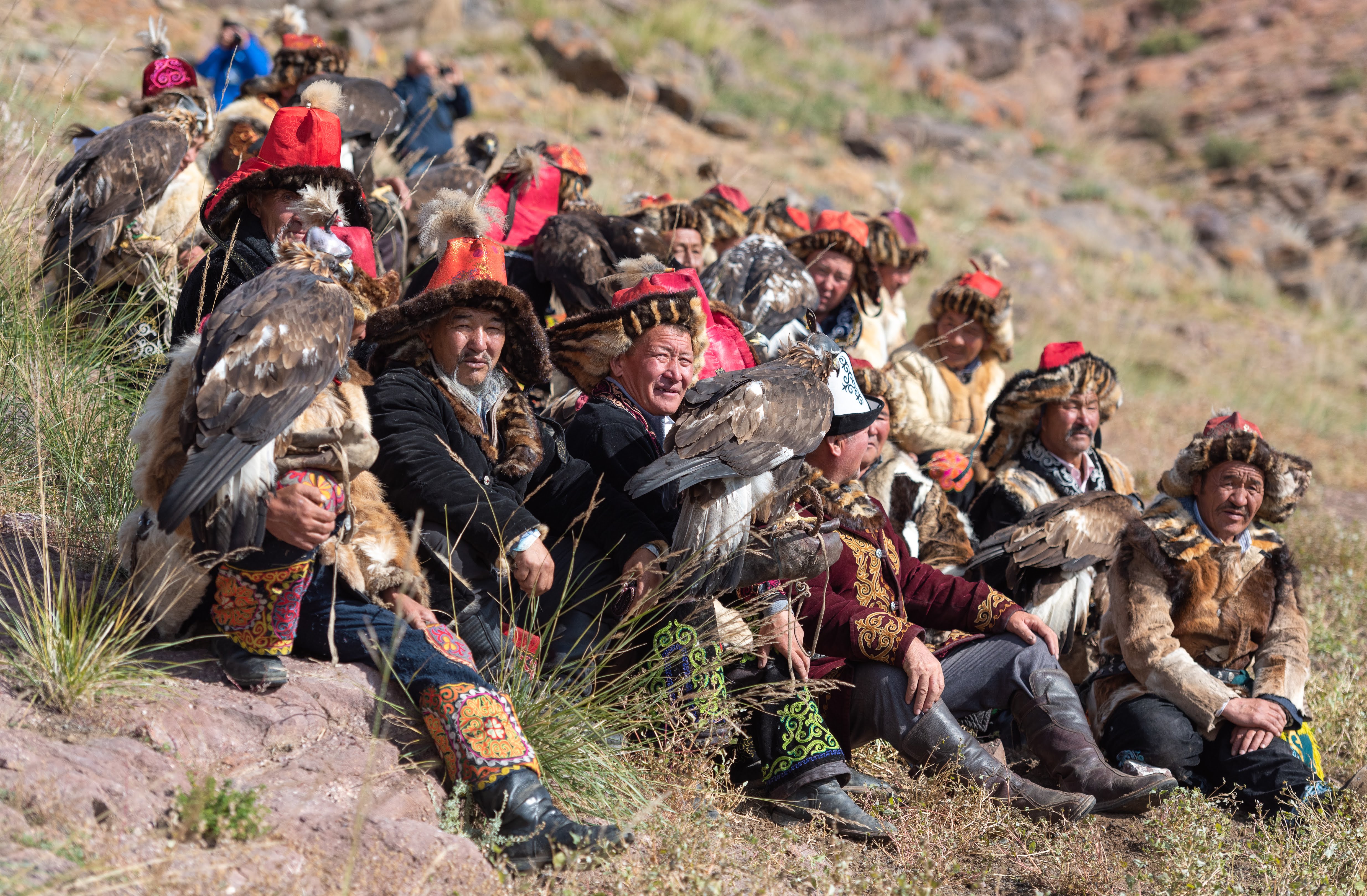 The Eagle festival, or Golden Eagle festival -is an annual traditional festival held in Bayan-Olgii province Olgii town in Mongolia. In the eagle festival, Kazakh eagle hunters celebrate their heritage and compete to catch animal fur from distance with specially trained golden eagles, showing off the skills both of the birds and their trainers. Prizes are awarded for speed, agility and accuracy, as well as for the best traditional Kazakh dress, and more.
Eagle calling