TOUR TO TSAATAN REINDEER HERDER NOMADS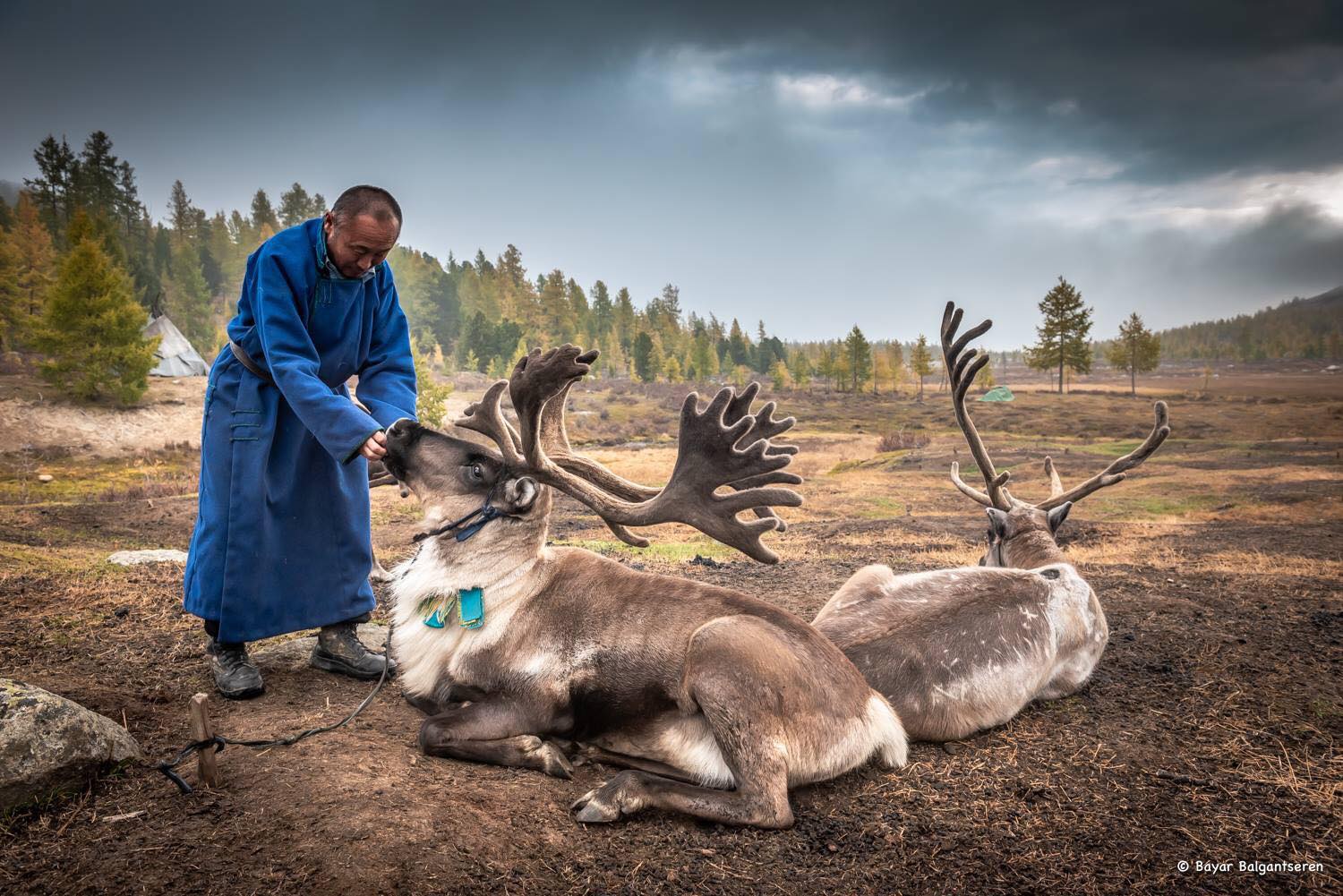 DETAILED TOUR ITINERARY
DAY 1.Arrive to Ulaanbataar.
Met at airport by local guide. Take to hotel for the night. Dinner and introduction to the City. Take to Money exchange for local currency. En route, visit the big Sukhbaatar Square, centre of the City. Overnight accommodation will be in a hotel. (L-D)
DAY 2 Take flight to Murun and explore Khuvsgul lake
At Muru airport you will be met by one of our representatives: driver, English speaking tour guide, and cook. We will drive from airport to Khuvsgul lake which is the second most voluminous freshwater lakes in Asia. It is located in the northwest of Mongolia, near the Russian border, at the foot of the eastern Sayan mountains. 100 km driving on paved road to reach the lake and enjoy the spectacular view of the area. Overnight accommodation will be in a tent or wooden cabin. (L-D)
DAY 3 Drive to the Ulaan Uul village.
After breakfast, we start driving to the Ulaan-Uul village, located 171km from northwest of Murun city. There are several rivers and mountain passes en route. Picnic lunch and many small stops for photographing.  Overnight accommodation will be in a tent or wooden cabin. (B-L-D)
DAY 4 To Tsaagan Nuur village
Early morning drive to Tsaagan Nuur village. Check in at the Army headquarters and show our passports and document permission for the Taiga region.
Then we will meet the nomad family supply us with the horses, and reindeer to go to Tsaatan family. The Family truly enjoy meeting guests. We will eat homemade Mongolian traditional food and can drink mare's milk, for those who would like to try this very Mongolian drink. Sleep in ger just like a Mongolian! Overnight accommodation will be in ger. (B-L-D)
DAY 5 Horse or Reindeer riding to the Family
Our staff will pack our gear (you need to sort out your unnecessary things and leave it to the car). Our driver will remain in the village with our supplies not needed for this part of the trip. We start riding to East Taiga (South Edge of Siberia). We need to ride for 7 hours including lunch break. Riding in the Taiga is exciting and challenging. If needed, we make sure you are will lead by very experienced guides.
The scenery, mountains, streams, tundra area, is spectacular. There are many wild flowers, birds and if we are lucky, we will see wild red colored deer. When we arrive at the teepees of the reindeer families, you will be welcomed and made to feel at home. We will spend the next two days, experiencing Tsaatan life. Overnight accommodation will be in a teepee. (B-L-D)
DAY 6 The magical Taiga
Full day of rest. We experience Tsaatan/reindeer herder's everyday life and can ride a reindeer and help with any chores, from milking. Cheese making and even trying to teach the children some Western games. Overnight accommodation will be in a teepee. (B-L-D)
DAY 7 Start our riding back to Tsaagan Nuur.
After 2 days of experiencing Tsaatan reindeer family's life and wild untouched Taiga's land, we say good bye our Mongolian family ride back to Tsaagan Nuur. Swim in the lake if warm. Overnight in Ger. (B-L-D).
DAY 8 Drive back to Moron.
There are several rivers and mountain passes en route. Picnic lunch and many small stops for photographing.  Overnight accommodation will be in a hotel (B-L-D)
DAY 9 Farewell to Moron. 
After breakfast you will driven to the local airport with your guide for your return flight to Ulaanbaatar. (B).
DAY 10: Departure transfer
Transfer to airport for your return flight home. (B)
A journey into the Taiga is an incredible experience in itself, but staying with a Tsaatan family, deep in the heart of it, is truly special. Living in remote camps, riding reindeer deep in the Taiga's forest, staying in their special accommodation (teepee) would be great experience for you.
ABOUT TSAATAN ( DUKHA TRIBE)
Tsaatan reindeer herders-is one of the last remaining group of nomads lives in Northern Mongolia. A visit to the Tsaatan community of reindeer herders is a fascinating experience. It is a rare chance to learn about a unique traditional way of life and a highlight of any trip to Northern Mongolia. You can stay with community and have the opportunity to volunteer for activities. Such as: reindeer milking and churning milk to be made into cheese. You will come away with a great appreciation for the remoteness and self-sufficiency of this tiny community.
What need to bring?
The weather in the Taiga can be very changeable and you'll be spending a lot of time outdoors so it's important to have the right gear with you. You'll also need to be prepared for the sleeping situation and bring gifts for the families. In summer there can be pretty bad flies and mosquitoes, and outside of summer the temperatures can really plummet. There can be snow at just about any time.
This is suggested packing list, that must have in your kitty, to make your trip a fulfilling and a comfortable experience.
Backpack
Waterproof bag cover
Comfortable light boots for walking
Head lamp/flashlight
Personal medications
Waterproof hiking boots
Waterproof jacket with hood
Waterproof over pants
lightweight trousers
Anti mosquito lotion
long underwear
Wool socks
Underwear
Warm hat and gloves
Sun glasses
Sun care cream
Spare glasses
Water plastic case with 1 liter of capacity
Binoculars/camera
Wet tissues
Money belt/ pouch
Insurance confirmation copy
Emergency contact number
Tour price includes:
Flight tickets to and from Murun
English-speaking guide,
Experienced driver and Cook,
Airport pick up and transfers,
land transportation,
Accommodations,
Horse and reindeer hire with saddle and other gears
Horse for carrying for luggage
Camping equipment, The North face 4 season tent, mattress
Dining tent
Breakfast, lunch, dinner
National park entrance fee.
Border permit
Tour price doesn't include:
International airfare
Travel insurance
Sleeping bag
Passport and visa fees
personal expenses
special order in cafes and restaurant
Altitude
Mostly we are camping and trekking around 1500-2000m high from the sea level. Some trekking routes may go as high as around 3000m but this is not a daily occurrence.
Weather
Some weather recommendations: Summer months in Mongolia are from early-June to mid-September. Although the Mongolian summers are hot and dry with occasional rain, the temperature can fluctuate as much 20 degrees centigrade between day and night. The weather at Altai Tavan Bogd NP is very changeable, so be prepared for all weather conditions. Mountain weather is always unpredictable, we recommend you to bring warm sleeping bags that rated -15 celcius.