Malchin peak climbing tour
Tour description
We offer you the best planned package tour which includes main highlights of Mongolian Altai region and Eagle hunting traditions. Altai Tavan Bogd national park is one of the most beautiful place in our country. Malchin Peak (Herder Peak) is one of the Holly Five Peaks of Tavan Bogd NP. Climbing to Malchin Peak is non-technical. You will be on the roof of Mongolia and enjoy panoramic view of the area. During this trip you can see the highest peaks in Altai, the second largest glacier in central Asia and number of valleys with stunning nature.
Why choose this tour
Hike to the Altai Tavan Bogd national park base camp
Climb up to Malchin peak 4050M
Explore the second largest glacier in central Asia
Enjoy the panoramic view of White river valley
Meet extraordinary Eagle hunter and his golden Eagle
Experience nomads lifestyle
Enjoy the driving off road
Day 1 Arrive to Olgii 
Olgii is highest Mongolian aimag (province). For the most part is located in the Mongolian Altai mountain region. The aimag is famous for the traditional hunting method using trained golden eagles. An estimated 80% of the world`s eagle hunters live here.At local airport you will be met one of the our representative: driver, English speaking tour guide, and cook. We will drive from airport to the entrance of the "Altai Tavan Bogd National Park". (180km from Olgii). Overnight accommodation will be in a tent. (L-D) 
Day 2 Glacier exploration
After breakfast you will start hiking from the entrance of the National park to the base camp. For approximately 5-6 hour on foot. In this day join our team camels and horses with guides. Baggage and all stuffs will transfer by camel. After 16km trekking you will reach one of the longest Potanine glacier which is surrounded with snow-capped peaks of Altai Tavan Bogd mountains. Overnight accommodation will be in a tent.     (B-L-D)
Day 3 To climb "Malchin" peak.
We'll awake to the fresh mountain air and stunning morning glow of the Altai Tavan Bogd NP. This day we will climb up to the Malchin peak 4050 meter high which is located on the Mongolia and Russian border. So come hydrated and with plenty of sunscreen. It's not a technical climbing. You can easily be on the top. You'll have the best view of the whole Altai Tavan Bogd national park and the longest Potanin glacier from the top of the Malchin peak.
Return to the base camp and overnight accommodation in a tent. (B-L-D)
Day 4 Trekking to "white river valley"
After having breakfast you will hiking back to the Tsagaan gol (white river) valley. It is called white-colored river because it gathers white dust, earth and sediments from the glaciers of Altai Tavan Bogd. Approximately five-six hour trek this day. Have a rest, relax. There will be time for in evening hike to the beautiful twin mountain lakes.  Overnight accommodation will be in a tent. (B-L-D)
Day 5 Drive back to Olgii and Visit eagle hunter's family.
After 100 kilometer drive you'll arrive in Sagsai village which is situated in a picturesque place on the bank of the Khovd river. Visit nomadic eagle hunter's family. It is a most important activity of the every tour that we organize. You will have chance to talk with eagle hunter and photographing with golden eagle, get acquaint nomads life style, their rich culture etc. Eagle hunter demonstrate his eagle and give interesting information about trained wild eagle. Furthermore you will enjoy tasting milk products and hospitality of local Kazakh nomads. In the evening drive back to OLgii. Overnight accommodation will be in a hotel. (B-L-D)
Day 6  Farewell to Olgii.
After breakfast you will be driven to the local airport with your guide for your return flight to Ulaanbaatar. B
Pitch camp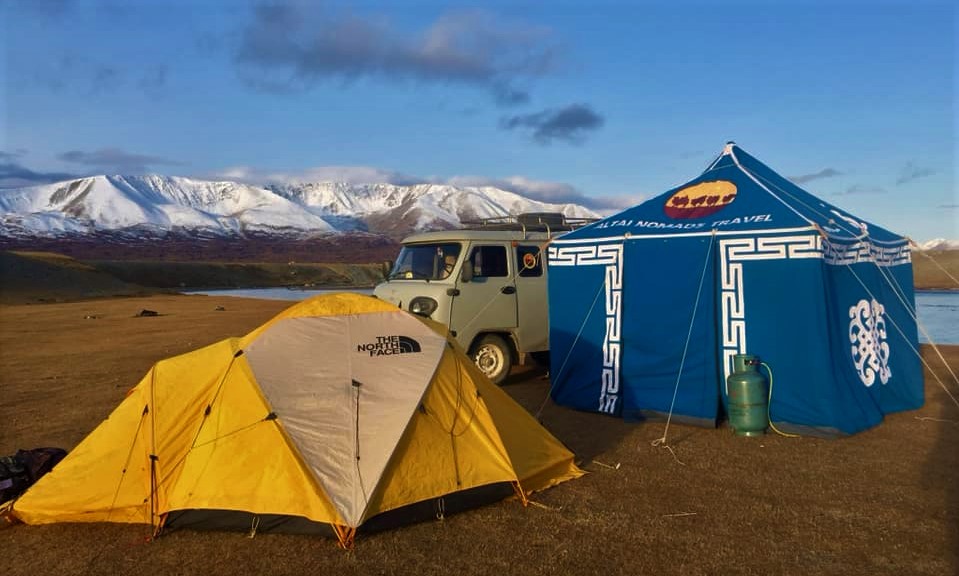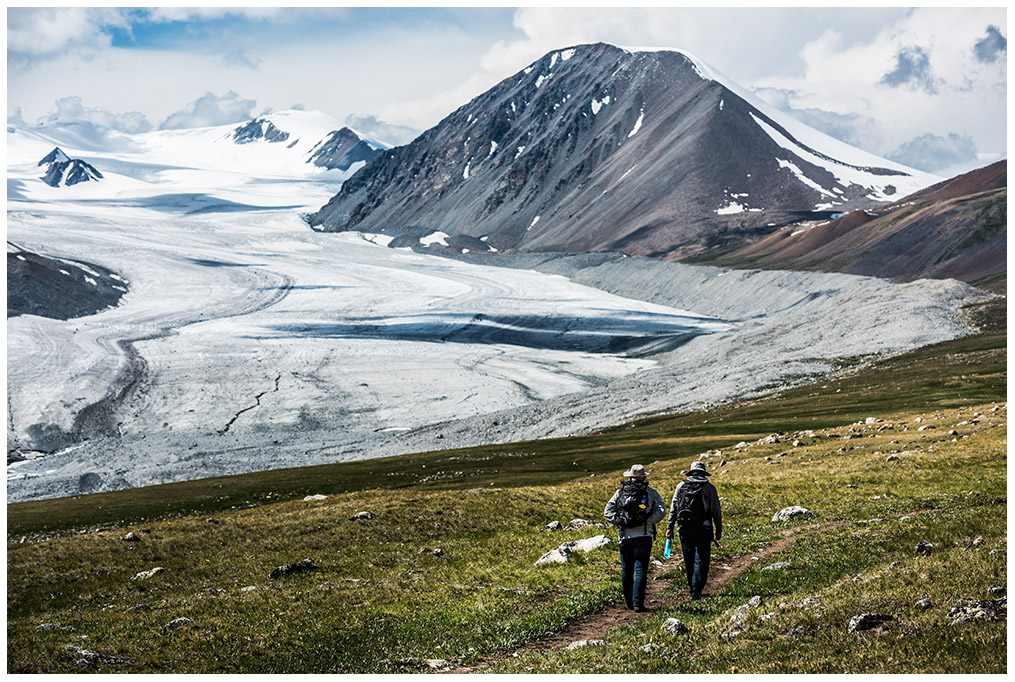 Tour price includes:
Flight tickets to and from Olgii
Airport pick up and drop off in Olgii
Local English-speaking guide 
Experienced driver and cook
land transportation,
Accommodations,
Camel and horse rent
Camping equipment.(tent mattress)
Breakfast, lunch, dinner 
National park entrance fee.
Tour price doesn't include:
International airfare

Any service in UB

Travel insurance

Sleeping bag

Excess baggage charge

Passport and visa fees

Optional additional activity cost

Personal expenses

Special order in cafes and restaurant
All your baggage will transport by camel during the trip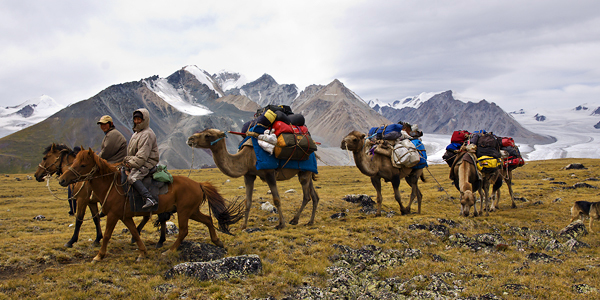 Visit nomadic eagle hunters family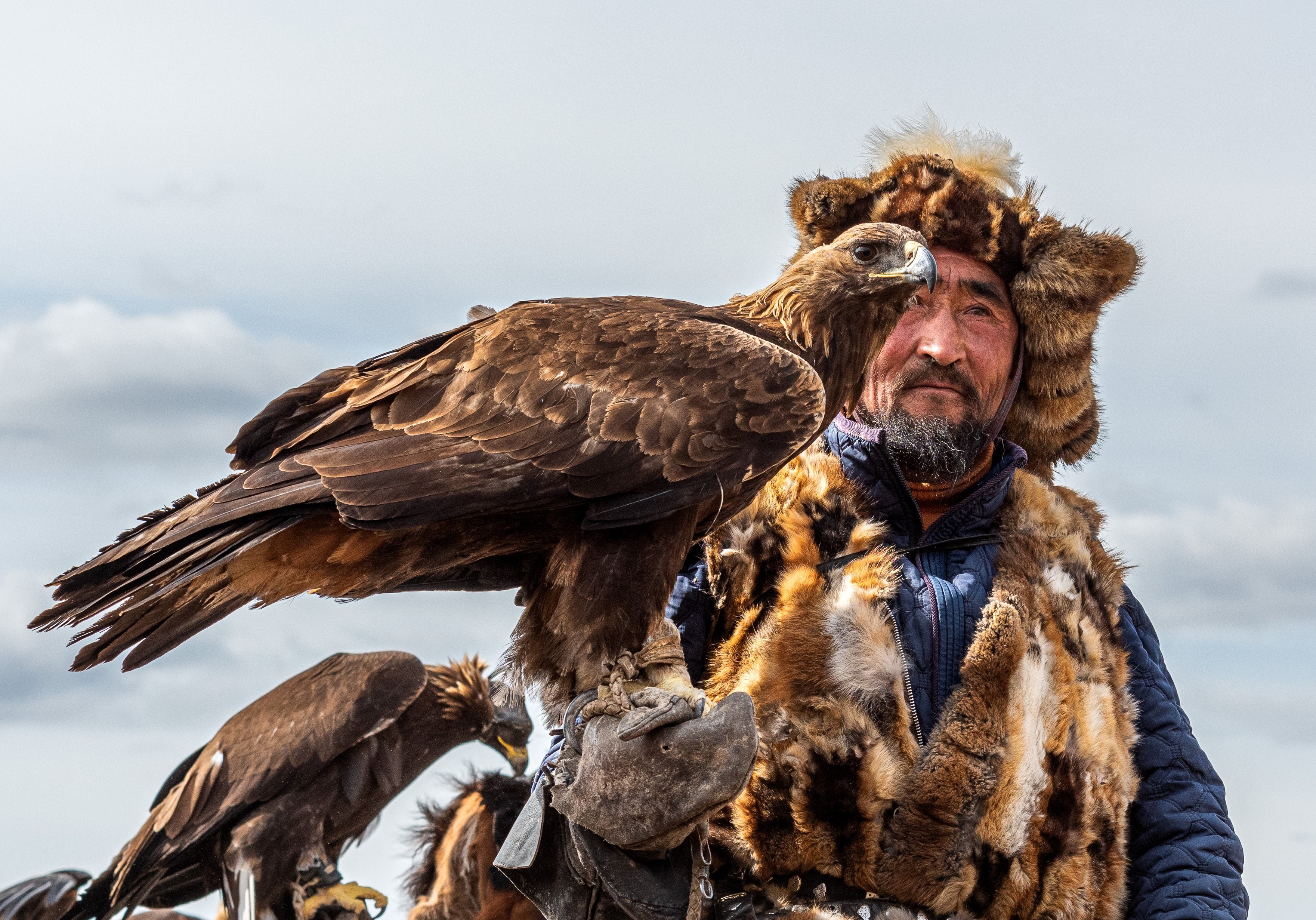 Altitude
Mostly we are camping and trekking around 1500-2000m high from the sea level. Some trekking routes may go as high as around 3000m but this is not a daily occurrence. When you climb up to the Malchin peak, it is about 4050m high from the sea level.
Weather
Some weather recommendations: Summer months in Mongolia are from early-June to mid-September. Although the Mongolian summers are hot and dry with occasional rain, the temperature can fluctuate as much 20 degrees centigrade between day and night, the weather at Altai Tavan Bogd NP is very changeable, so be prepared for all weather conditions. Mountain weather is always unpredictable, we recommend you to bring warm sleeping bags that rated -15 celcius.