GOBI DESERT OVERLAND TOUR
Tour highlights
Climb to famous Khongor sand dune
Exploring ancient temple ruins
Hike to majestic Flaming cliffs
Driving through wilderness
Experience nomads lifestyle
Enjoy two humped camel ride
Discovering dinosaur sites
Gobi Gurvan Saikhan NP
Tsagaan Suvarga- colorful earth
Yol valley     
DETAILED TOUR ITINERARY
DAY 1 BAGA GAZRIIN CHULUU OR SMALL ROCK FORMATION.  
In the morning we will pick you up from your accommodation and drive to Baga Gazriin Chuluu. This is located in Delgertsogt sum and surrounded by plateau landscape. The highest point is about 1765 m high from the sea level.  This stunning part of Gobi desert allow you to explore old stone temple ruins related to the 17 the of century and small spring called, "EYE" on the top of rocks.
DAY 2 YOL VALLEY OR VULTURE VALLEY – NARROW GORGES
Yol valley is a deep and narrow gorge in the Gurvan Saikhan mountain of southern Mongolia and forms incredible canyons and interesting rocky sceneries. The sun never reach narrowest part of the gorges, and here you can find ice and snow in summer hot days. The narrowest part is only 3-4 person can pass in same time.
DAY 3 KHONGORYN ELS- SAND DUNE.
After breakfast we head off to Khongor sand dune, which is the main highlight of our trip. It is the biggest and most spectacular sand dune in Mongolia that stretching along the northern side of Sevrei and Zoolun mountain ranges. 4-5 hour driving takes us to huge Gobi desert and a cold water spring with river. On this day you will have the chance to visit a camel herdsman family and experience their lifestyle, with rich culture and traditions.
DAY 4 HIKING TO SAND DUNE AND CAMEL RIDING.
After a good night sleep in ger, start hiking to the highest sand dune (800 m), and climb up to the top of Khongor sand dune and slide down. When you reach the top, you will have amazing views of much of the golden Gobi desert. The sands have attractive curves which end in a sharp edge, making wave like patterns on the sand. They continually change shape due to wind and reflect yellow-white colours as the intensity of light changes during the day. Photographing and exploring neighborhood area, riding on the gentle two humped camels.
DAY 5 BAYAN ZAG – DINOSAUR SITE
After a good night sleep and a hearty breakfast, continue driving towards Bayanzag also know as the "Flaming cliffs" (240) mostly paved road. Bayanzag means "rich saxaul" which is small type of tree. Bayanzag is famous with its paleontological sites. This plain has many sedimentary sand cliffs where many dinosaurs' fossils have been found. In 1922, the palaeontologist Roy Chapman Andrews was the first to discover dinosaurs' bones and eggs.
DAY 6 TSAGAAN SUVARGA WHITE STUPA
In the morning we start driving to the Tsagaan Suvarga, which is located in south west of Dundgobi province in Olziit sum. It is a sheer slope that was an ancient seabed that featured a sedimentary structure that was created over millions of years. The cliff is 30m high and 100m wide. Hiking around and enjoy the spectacular view of the White Stupa.
DAY 7 DRIVE BACK TO ULAANBAATAR
Our trip is completed. In the morning we will drive back to Ulaanbaatar, transfer to your hotel.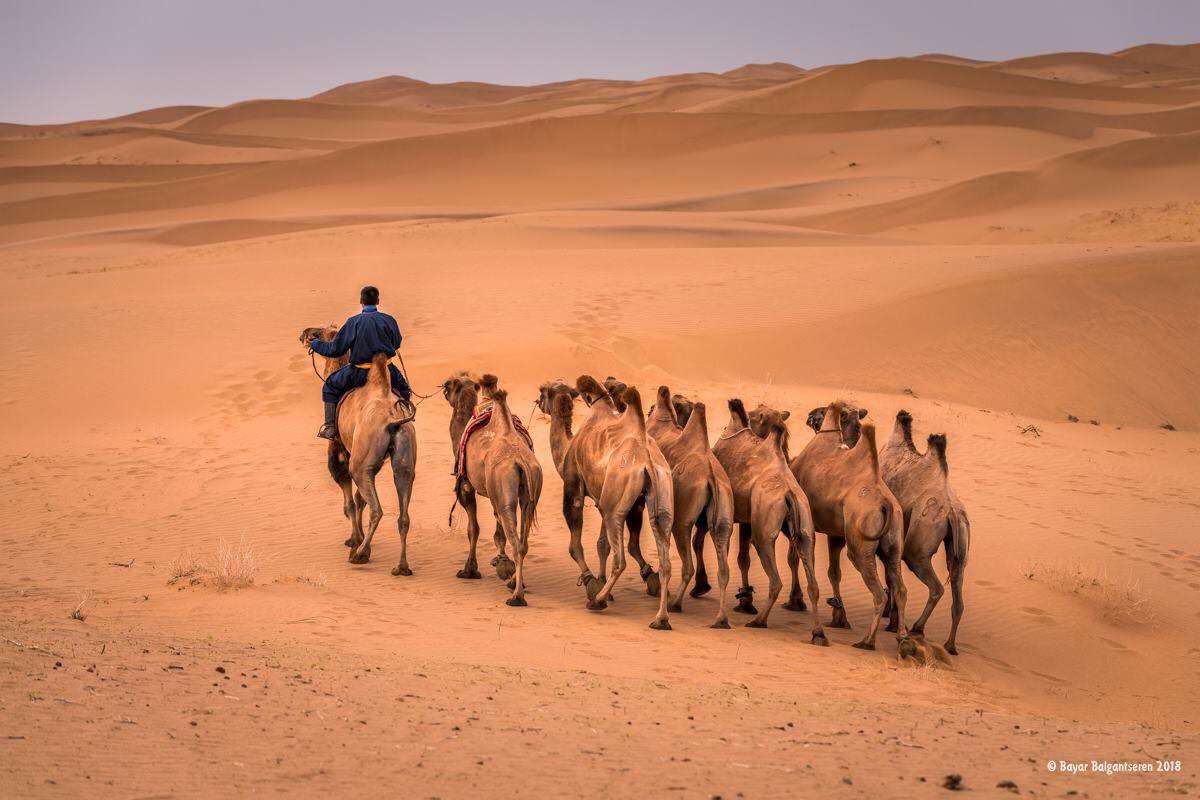 Tour price includes:
Pick up and drop off in UB
Local English-speaking guide 
Experienced driver and cook
land transportation+gasoline
Accommodations, ger
Camel rent
Visit nomad family
Camping equipment.(tent mattress)
Dining tent
Breakfast, lunch, dinner 
National park entrance fee.
Tour price doesn't include:
International airfare
Hotel in UB
Travel insurance
Sleeping bag
Excess baggage charge
Passport and visa fees
Optional additional activity cost
Personal expenses
Special order in cafes and restaurant

Weather
Some weather recommendations: Summer months in Mongolia are from early-June to mid-September. Although the Mongolian summers are hot and dry with occasional rain, the temperature can fluctuate as much 20 degrees centigrade between day and night, so be prepared for all weather conditions.